Acer Predator Triton 700 laptop review: The closest thing to a high-end gaming ultrabook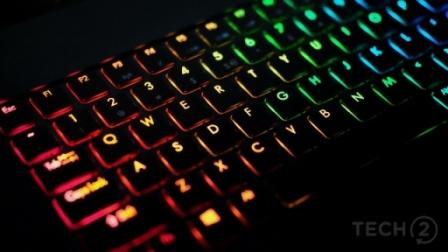 It's always been hard to reconcile the dreams of portability with power in a gaming laptop. Laptops can be powerful and massive or wimpy and slim.
A slim laptop will not be thermally efficient, leading to a drop in performance, and a thick laptop isn't portable.
A good gaming laptop is one that can handle a sustained thermal load, i.e. long gaming sessions, but such a laptop is not one that you'll normally want to carry around with you wherever you go.
Attempting to reconcile these two ideals is NVIDIA with its 'Max-Q Design'. NVIDIA makes some of the best graphics cards (GPUs) on the planet, and GPUs are easily the hottest components on a gaming laptop, both literally and figuratively.
Normally, all GPU makers work to extract the maximum possible performance from their designs. With Max-Q, instead of maximum performance, the focus is on maximum efficiency. In the case of a high-end GPU, that 'Max-Q' point of highest efficiency could be at about 85 percent of its performance. Beyond this point, temperatures and power draw can scale exponentially.
Essentially, a Max-Q GPU is slower than a regular GPU, but only to an extent that will have little to no perceivable impact on most games. In exchange, you get a lower power draw (i.e. longer play time) and lower thermal load (i.e. the laptop won't need to be so beefy).
It's an exciting idea on paper, but how does it hold up in real-world use?
Among the handful of laptops in the world to support Max-Q is the Acer Predator Triton 700, and it's with this device that we attempt to answer that question.
Build and Design: 5.5/10
For a laptop that costs over Rs 3 lakh, the Triton 700 is surprisingly flimsy. It's made from the thinnest of metals and bendy plastic. I was a little surprised at this, but then again, I had to remind myself that the overriding priority with this laptop was low-weight and thickness. It is a mere 18.9 mm thick, after all. At around 2.4 kg, it's also among the lightest 15.6-inch devices around.
This is especially impressive when you consider that you're looking at one of the most powerful gaming laptops in the market today.
Open the lid and you'll be struck by the layout of the keyboard and trackpad. The keyboard and trackpad have swapped places, with the trackpad doubling as a window into the internals of the laptop.
It's a cool design, but one distinctly lacking in functionality. Moving the keyboard to the front means that there's now no palm rest.
Ergonomically, this laptop is an absolute pain to use. The forward placement of the keyboard makes the laptop uncomfortable to use on your lap or on small tables, and the placement of the trackpad just makes it awkward to use without a mouse.
Ports are present all over the device, even on the rear.
Keyboard and Trackpad: 4.5/10
The kindest thing I can say about the Triton's keyboard is that it's different. These are mechanical keys, after a fashion, and make an audible click when depressed. They clearly don't have the tactile, linear response of a true mechanical keyboard and they also don't feel as good as those you'd find on a MacBook or ThinkPad.
What's frustrating about these keys is that they click for the sake of clicking. A mechanical Cherry MX key "clicks" when the keystroke is registered. The Triton 700's keys just click the moment you press them, before the keystroke is registered, undermining the whole point of audible feedback.
If anything, the trackpad is worse than the keyboard. Despite feedback issues, the keyboard actually works and can be fun to type on. The trackpad, on the other hand, fails at everything it does.
First, the glass trackpad is supposed to be a window into the internals of the laptop. All you really see when you take a peek, though, is a blurred view of some copper heat pipes and the faint glow of the LEDs around one of the cooling fans.
Second, the trackpad is meant to, well, track. Unfortunately, it doesn't track very well and at least with my fingers, it didn't even detect clicks properly. This is all the more frustrating when you realise that there's no right-click button. You have to use the double-tap-to-right-click gesture, and it doesn't always work. Swipe gestures also don't respond well for the same reason.
Thankfully, this being a gaming laptop, you're unlikely to ever use the device without a mouse attached anyway. Woe be you if you don't, however.
I can understand why Acer choose this odd layout with the keyboard in front, ASUS choose to do the same, after all, but why couldn't Acer have gone for a nice keyboard and instead of a gimmicky one?
I also don't think that I would have minded a slightly thicker laptop if it came with a more traditional layout.
Features: 9/10
Powered by an Intel Core i7-7700HQ CPU, 16 GB of RAM and an NVIDIA Max-Q design GTX 1080 graphics card, this laptop is no slouch. The display is a 15.6-inch 120 Hz FHD panel (1920x1080 pixels) that's G-Sync compatible, and you get 1 TB of storage, which is supposed to be two drives in RAID 0 for enhanced performance.
This configuration defers from the international variant in that the default option offers 32 GB of RAM and 512 GB of storage. I suppose Acer felt that 1 TB of storage would be better than 32 GB of RAM. I can't say I disagree with them on that.
The keyboard uses "mechanical" keys with RGB backlighting (more on that later) and the glass trackpad is protected by Corning Gorilla Glass.
In terms of connectivity, you're well covered. Options include 4x USB-A ports, two of which are USB 3.0, 1x USB-C port that's Thunderbolt 3 compatible, and it also supports DisplayPort and HDMI, both of which are on the back.
Display: 8/10
You'll be forgiven for expecting a best-in-class display on a laptop retailing for Rs 3.3 lakh, a display that comes with the works: 4K UHD, HDR, 240 Hz, or at least wide-gamut support.
Instead, you get a slightly bluish 15.6-inch display that's running at 1080p (FHD) and supports G-Sync at 120 Hz.
Wait. What? G-Sync? 120 Hz? Woohoo!
For a gamer, those words represent what is close to the holy grail of gaming displays. A 120 Hz refresh rate and G-Sync support means that the included uber-powerful GPU can flex its muscles while you enjoy a steady, stutter-free gaming experience.
Normal computer displays are 60 Hz units. At this frame-rate, some amount of motion blur and input lag is apparent, making the gaming experience less competitive and more "cinematic" one. Normal displays also only work best at when the on-screen data is being refreshed at a steady pace, usually at 30 or 60 Hz. G-Sync ensures that regardless of the refresh rate of the data, the visuals on the screen appear clean.
Cheaper laptops do sport G-Sync displays, however, so Acer's display isn't unique or special in that regard.
In terms of colour quality, the laptop topped out at 84 percent sRGB and a contrast ratio of 817:1. That's not bad, especially for a 120 Hz, display, but ASUS and MSI have both shown that it's possible to fit more accurate, brighter displays with G-Sync support.
Performance: 9/10
The performance of this laptop almost makes up for its shortcomings in the keyboard and monitor department. Almost.
As mentioned earlier, the Max-Q design GTX 1080 GPU in this device offers 80-90 percent of the performance of a mobile-ready GTX 1080, which should also make it faster than a mobile-ready GTX 1070.